Lake O'Hara Guided Hikes
Sorry, this hike is not available this year.
Enjoy an interpretive hike in one of the most fabulous place in the Rocky Mountains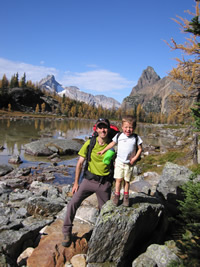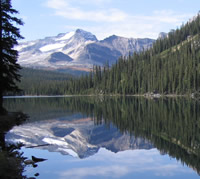 Group of maximum 5 persons.
Price:
Cdn$104 per person
Cdn$300 for 2 persons with your own exclusive guide
Cdn$375 for 3 persons with your own exclusive guide
Includes:
Full day guided interpretive hike
Return bus transportation between Lake O'Hara parking lot and Lake O'Hara
Does Not Include:
HST 12%
What to Bring:
Hiking in Lake O'Hara area involves walking on uneven and rocky terrain. Good footwear is mandatory.
Appropriate equipment includes a fleece, rain gear, water (minimum 1L), food, sunscreen, hat, good footwear, winter hat and gloves or mitts. Dress in layers. Do Not forget your camera, your lunch and your smile.
Be ready ! Moutain wheather is subject to sudden changes and snow could happen in the summer.
Reservations:
Licensed Hiking companies can book a limited number of seats up to 3 months in advance, based on first arrived first served.
We can take your reservation and we will be able to confirm 24h in advance of the hiking day. To make a reservation at or
(250) 343-6380
We will ask you to sign a waiver